If you have the right authorization within Deployteq, you will be able to copy existing campaigns. This means that it is no longer necessary to rebuild existing campaigns in the same brand or other brands. We advise you to check the copied campaigns carefully and test them within the new brands.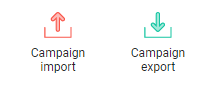 If you wish to make a copy of a campaign, use the 'Export Campaign' button which can be found in the menu bar within the Campaign Designer menu. Once you have selected your chosen campaign, the 'Export Campaign' button becomes active. Click on this button to see the export menu.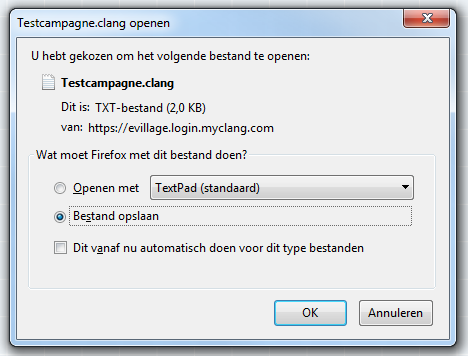 You then save the '*.Deployteq' file, after which you will be able to import this campaign in the same or another brand.
Importing a campaign
Once you have exported a campaign, you can import it into the same or a different brand.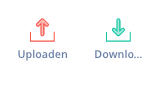 Once you have clicked on the 'Import Campaign' button, you can import your chosen .txt file that was already saved on your computer.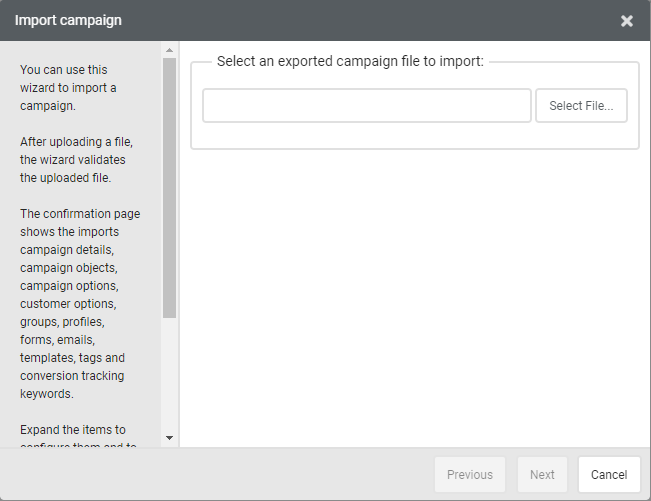 The settings for the selected campaign will be displayed.
You can then configure the campaign settings in the screen, such as the name of the campaign, the profiles, etc. Items, profiles, customer fields, etc. with the same name will be linked automatically (for customer options, the type must also match).
Items with a red 'configure' button need to be configured

Items with a green 'configure' button are automatically configured, but can still be modified

Items with a blue 'configure' button can still be configured. If nothing is done, the object will not be configured
If you import a campaign with a name that already exists, the import will be saved as 'campaign name (2)'. Templates and objects will also be copied so that the e-mails can be used immediately. It is important to think about whether a template can be used in the new brand or whether you will be dealing with a different label, language, or corporate style. If you use custom objects in a campaign that you wish to copy, the custom objects must also be activated in the new brand. If an e-mail content is copied that contains hard campaign object links, the copy action will convert them into soft links.
Of course, we advise checking the copied campaign again thoroughly and testing it once it has been imported into the new brand.